With two majors coming up over the next 3 weeks,
it's time for a SPECIAL OFFER from GOLFstats.com
Signup for a new account on DRAFTKINGS.com (using the banners below) and we will provide you a free month on GOLFstats.com!

Details:
If you already have a DraftKings account, you can still get the credit by clicking on one of the banners below and create a new DraftKings account using a different email address.
If you are not a GOLFstats.com member, click here to sign up for a monthly or yearly GOLFstats.com membership
If you don't use one of our banners below to create your new DraftKings account, we cannot provide a free month.
Shortly after we receive notification from DraftKings of your new account, we will refund your most recent $15 monthly GOLFstats payment, or credit you $15 against your $79 one year membership.
Once you sign up you can then

use the vast resources and tools on GOLFstats.com

(including exclusive DraftKings analysis, picks, and tools) to make your picks for the

upcoming DraftKings Golf Games

(check out this

recent YouTube video

on new DraftKings features)

Two GREAT DraftKings games coming up for this week
(The first one is a $33 entry free - $1m first prize. The second one is a special promo - the $3 entry fee is waived for this week. Play for free!)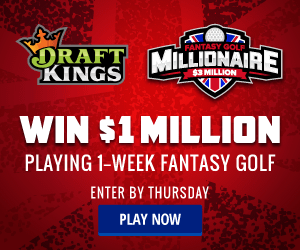 and

offer valid through July 31, 2016